chanukah 2020
If there were ever a year where we needed to create as much light and positive energy as possible, 2020 is it! One of the unexpected benefits of the pandemic is the ability to gather online, connect and share with people and groups anywhere on the earth.
Below is the schedule of Chanukah events, some run by Barnert and others run by groups in our community. We hope you will take advantage of this unique period in time to fully embrace the meaning and joy of the festival of lights.
WE'LL BE POSTING LOTS OF INFORMATION ON FACEBOOK & INSTAGRAM!
If you aren't connected to us on social media, what are you waiting for? Follow Barnert Temple on Facebook and Instagram. We'll be posting LOTS of information, fun facts, resources, and information about Chanukah and Chanukah events.
---
WE HOPE YOU ENJOYED...
Lights come from candles, but they also come from the smiling faces and joy shared through Chanukah celebrations. Many of you sent us photos, and we hope you enjoy this video filled with the faces and traditions shared by you, our Barnert community! View Video >>
------------------------------------------
We hope you enjoyed this very special and uplifting evening of music by Nefesh Mountain. Doni and Eric are filled with joy, love, happiness and talent. They were so happy to share this with all of you this Chanukah season. We look forward to having Nefesh Mountain back at Barnert this spring.
------------------------------------------
BARNERT TEMPLE'S NEW OUTDOOR MENORAH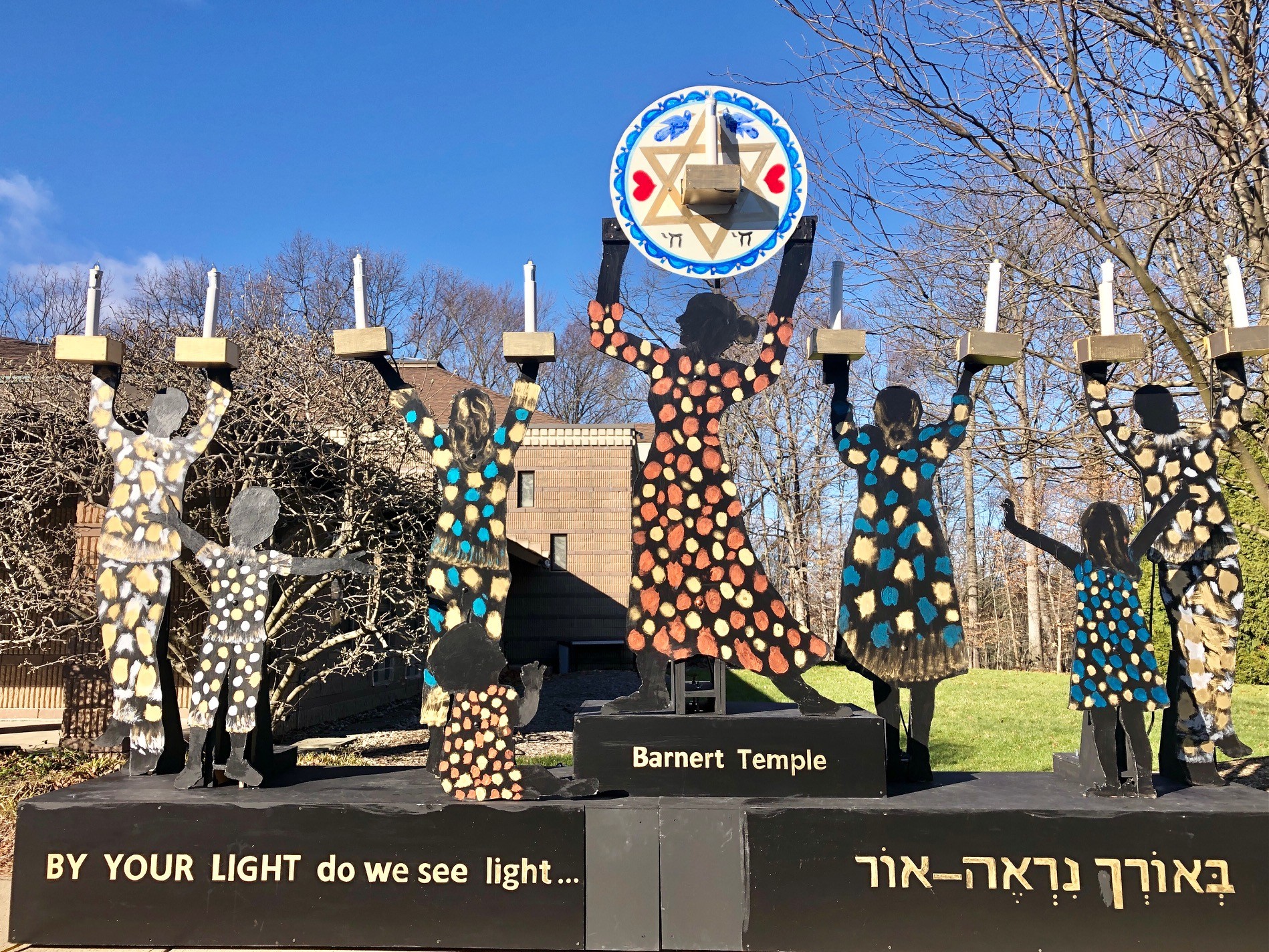 Click Image to View Photo Gallery
------------------------------------------
On December 6, 2020, Barnert unveiled its new outdoor menorah! Our new menorah was designed and built by Barnert members in a truly collaborative process that reflects all that is wonderful about Barnert Temple.
The design was conceived by Renaissance-man and longstanding member, Lou Lever, with guidance from Rabbi Steiner and a number of Temple members. Leonard Diamond took the lead on project management from the early design phases to the setup in front of our building. Liz Estersohn used her power tools and carpentry expertise to work on the construction stages, and Alex Vandeweghe donated his time and expertise as an electrician to bring light to our menorah - an essential element.
"I didn't want a generic menorah that looked like all of the other outdoor menorahs. I wanted our menorah to reflect us. I have always loved that the Barnert menorah was unique and homegrown and felt like Barnert." - Rabbi Steiner
The thoughtful concept offers representation to each one of us - as individuals and as families, however we come together to make a family - and shows the way that we create light. The inscription has dual meaning, referencing the light of God, but also referencing the light of our Barnert community. Barnert's light has shined brightly through the 9 months of our building being closed. We have held each other up and become a light for one another. How could we have predicted that 2020 would be the perfect year for this menorah?
Our new menorah will be lit each night of Chanukah by different Barnert leaders. Drive by during the holiday to see the beauty of this new ritual object and piece of art.
------------------------------------------
CHANUKAH CALENDAR OF EVENTS
myjewishlearning.com chanukah hub
Jokes from the Barnert Temple Men's Club
How Barnert Members Celebrate Chanukah
OTHER FUN CHANUKAH VIDEOS
8 Days of Hanukkah (Sharon and the Daptones)
Puppy for Hanukkah (Daveed Diggs)
Bohemian Chanukah (a Queen adaptation) (Six13)
How Do You Spell Channukkahh (LeeVees)
Light One More feat. Yoni Shine (Rav Mo)
ADDITIONAL CHANUKAH LINKS & RESOURCES
Sat, July 31 2021 22 Av 5781