chanukah 2021
The need for light and positive energy never seems to diminish.
Below is the schedule of Chanukah events, some run by Barnert and others run by groups in our community. We hope you will take advantage of this unique period in time to fully embrace the meaning and joy of the festival of lights.
WE'LL BE POSTING LOTS OF INFORMATION ON FACEBOOK & INSTAGRAM!
If you aren't connected to us on social media, what are you waiting for? Follow Barnert Temple on Facebook and Instagram. We'll be posting LOTS of information, fun facts, resources, and information about Chanukah and Chanukah events.
---
Submit Your Pics/Videos by Dec. 1
Lights come from candles, but they also come from the smiling faces and joy shared through Chanukah celebrations. Send us photos or video of how you and your family celebrate Chanukah. We'll be sharing the photo montage with our Barnert community during Chanukah.
------------------------------------------
Nov. 28 - Dec. 5 | 25% Special Discount
1 ticket. 8 nights. 11 films. Menemsha Films is partnering with Jewish organizations, like Barnert to bring you exclusive, award-winning films for adults and children along with filmmaker discussions - right from the comfort of your home. Enter code BRNRT to save $12 off of the ticket price.
------------------------------------------
Limited Space | Register Today!
The store will be closed just for our special event! Learn about this ancient food and taste oils that will give you new ways to incorporate this symbol into your holiday. Must be fully vaccinated to participate. Advance registration required.
------------------------------------------
POSTPONED TO JANUARY/FEBRUARY
An Inspirational Story for the Last Night of Chanukah. Family, baseball, and perseverance come together as we talk with mother, advocate, author, and now film producer Jodi Michelle Cutler, about her upcoming family film, Rally Caps.
------------------------------------------
LOTS OF JOY WRAPPED INTO ONE NIGHT!
FRIDAY, DECEMBER 3
SERVICE @ 7 PM | OUTDOOR CELEBRATION @ 7:45 PM
There are many reasons to celebrate this year, including our ability to celebrate together, in person.
Join us for slightly shorter Shabbat service with Chanukah-inspired music and teaching. Around 7:45 p.m., we'll move outdoors for our outdoor menorah lighting with:
- A Chanukah Sing-Along
- An ONEG! (Yes, a Chanukah-themed oneg!)
- A special gourmet Chanukah gift to take home for all who come!
- We also encourage everyone to bring a toy for our Holiday Toy Drive.
As always, we ask that you:
- Register in advance
- Follow our standard safety protocols (masks required indoors, 16 years+ must show proof of vaccination)
CHANUKAH CALENDAR OF EVENTS
BARNERT TEMPLE'S OUTDOOR MENORAH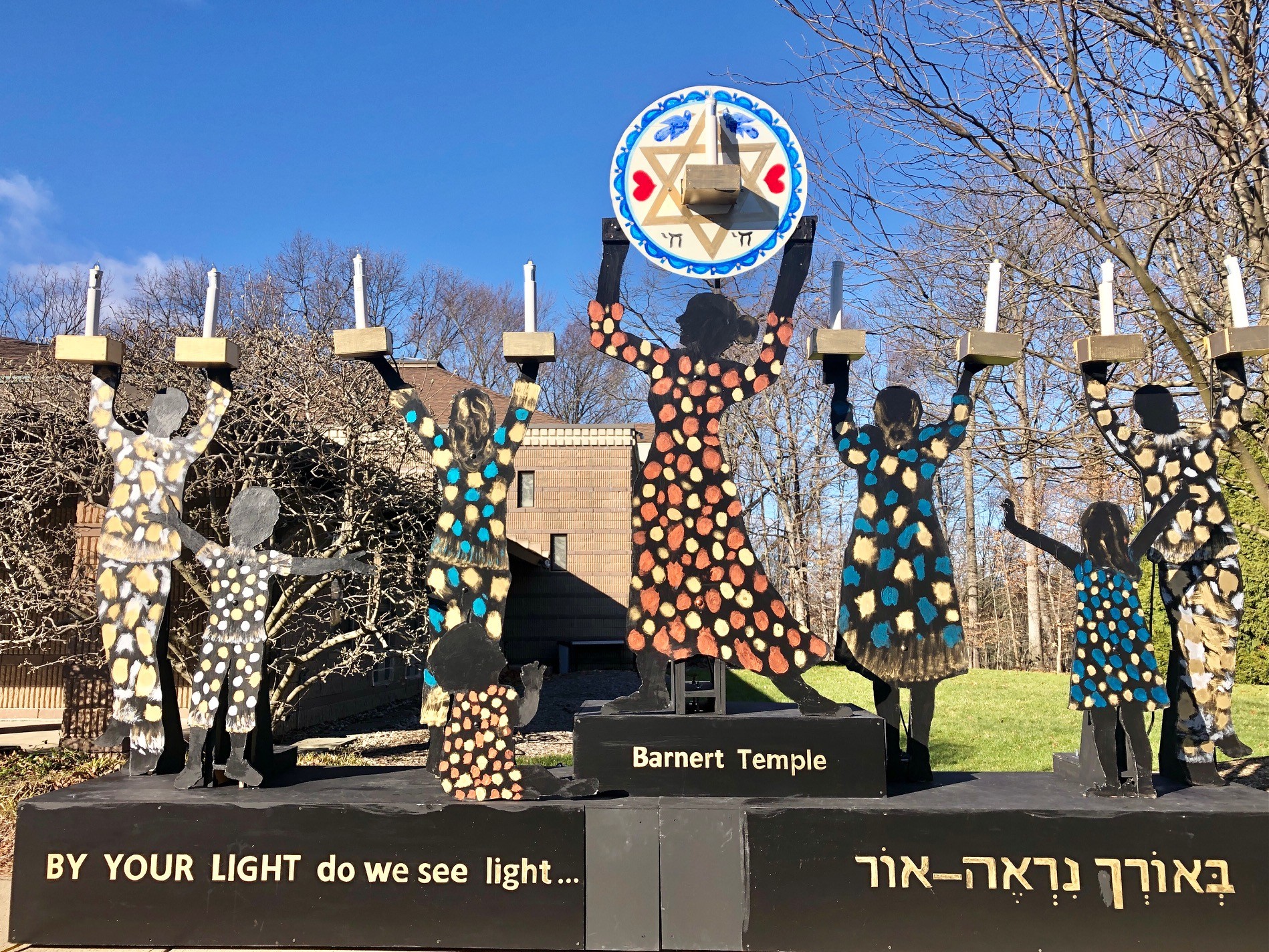 Click Image to View Photo Gallery
------------------------------------------
Last year at Chanukah, Barnert unveiled its new outdoor menorah! Our menorah was designed and built by Barnert members in a truly collaborative process that reflects all that is wonderful about Barnert Temple.
The design was conceived by Renaissance-man and longstanding member, Lou Lever, with guidance from Rabbi Steiner and a number of Temple members. Leonard Diamond took the lead on project management from the early design phases to the setup in front of our building. Liz Estersohn used her power tools and carpentry expertise to work on the construction stages, and Alex Vandeweghe donated his time and expertise as an electrician to bring light to our menorah - an essential element.
"I didn't want a generic menorah that looked like all of the other outdoor menorahs. I wanted our menorah to reflect us. I have always loved that the Barnert menorah was unique and homegrown and felt like Barnert." - Rabbi Steiner
The thoughtful concept offers representation to each one of us - as individuals and as families, however we come together to make a family - and shows the way that we create light. The inscription has dual meaning, referencing the light of God, but also referencing the light of our Barnert community. Barnert's light has shined brightly throughout the pandemic, and we have found ways to stay connected in many new wys. We continue to hold each other up and serve as a light for one another.
Our outdoor menorah will be lit each night of Chanukah by different Barnert leaders. Join us during the holiday to see the beauty of this new ritual object and piece of art.
------------------------------------------
"CHANUKAH HUB" on myjewishlearning.com
Jokes from the Barnert Temple Men's Club
How Barnert Members Celebrate Chanukah
OTHER FUN CHANUKAH VIDEOS
8 Days of Hanukkah (Sharon and the Daptones)
Puppy for Hanukkah (Daveed Diggs)
Bohemian Chanukah (a Queen adaptation) (Six13)
How Do You Spell Channukkahh (LeeVees)
Light One More feat. Yoni Shine (Rav Mo)
How Do You Spell Channukkahh (LeeVees)
Light One More feat. Yoni Shine (Rav Mo)
ADDITIONAL CHANUKAH LINKS & RESOURCES
Wed, February 1 2023 10 Sh'vat 5783