Meet Our Team
Meet The Barnert Team
RABBI RACHEL STEINER
Rabbi Rachel Steiner is excited to be continuing her rabbinic career at Barnert Temple, now as its Senior Rabbi. During the past eight years at Barnert, Rabbi Steiner has spent her time building relationships, teaching people of all ages and stages, and traveling with individuals and families on their Jewish journeys. Rabbi Steiner is passionate about connection: in the sanctuary with or without her guitar, on the floor of Barnert Preschool classrooms telling stories with the children, or engaged in one-on-one conversations with people of all ages.
Rabbi Steiner grew up on the Upper West Side of Manhattan and has always loved the New York City area. Growing up, she spent much of her time outside of school at Congregation Rodeph Sholom, her home synagogue. It was her love of music that opened the door into that community, and it was there that she discovered her passion for Jewish life, learning and community.
She received her B.A. in Sociology from the University of Pennsylvania in 2002. Before beginning her rabbinical studies at HUC-JIR in 2005, she spent a year in San Francisco working in Jewish education and a year and a half back in New York City, where she worked at the Covenant Foundation and at Rodeph Sholom. She spent six months on Kibbutz Ma'agan Michael in Israel before her first year of rabbinical school in Jerusalem.
Rabbi Steiner and Dan are the proud parents of Ezra and Asher.
Contact: (201) 848-1800 or RabbiSteiner@barnerttemple.org
---
RABBI ELYSE FRISHMAN | Rabbi Emerita
Rabbi Elyse Frishman was ordained in 1981, and served as Barnert's Senior Rabbi for 22 years before retiring in 2017.
Rabbi Frishman was the editor of the Reform movement's new prayer book, Mishkan T'filah, now widely used in Reform congregations nationally and internationally. She serves on the Board of American Jewish World Service.
She is married to Rabbi Daniel Freelander, President of the World Union for Progressive Judaism. Their family includes Adam and Julie, Jonah and Sarah, Devra, and granddaughter Aviva.
---
SARA LOSCH | Director of Lifelong Learning
Sara Losch is the current and founding director of the Barnert Temple Preschool, which is currently celebrating its 30th year. During her years at Barnert, Sara helped design and usher in a new model for the Jewish education of Kindergarten through twelfth graders. The Jewish Journey Project Barnert Temple (JJP) has energized students, teachers and parents and has allowed us to offer families what they need most: a flexibly-scheduled, engaging, and meaningful way to raise Jewishly-connected and literate children.
Often called one name - "Saralosch" - by her students, Sara's greatest joys at Barnert are her involvement in the lives of families, from the birth of their children through all of their important life-cycle events, and watching parents (and children) make lifelong friends.
Sara has an undergraduate degree in Special Education and a Masters degree in Early Childhood Education. She lives in Wyckoff with her husband, Jorge. They are the proud parents of two adult children, Jessie and Gabby, who insist on living in Brooklyn!
Contact: (201) 848-1027 or saralosch@barnerttemple.org
---
REBECCA MCKINNON | President
Rebecca McKinnon is serving her third year as Barnert's President. A member since 2010, Rebecca got involved in leadership coming up through the Membership Committee and then serving as Chair for two years prior to moving into her current position as President.
Rebecca had the privilege of attending the URJ's Schedit Seminar for incoming Presidents in the Spring of 2016 and has participated in many URJ leadership events since then. Serving in leadership at Barnert is one of the greatest joys of Rebecca's life (after her children of course!). She is grateful for the opportunity and is so thrilled to be partnering with Rabbi Steiner in her first year as Barnert's Senior Rabbi. (Read Rebecca's Why Barnert Matters? article, Sept. 2016)
Rebecca lives in Wyckoff with her daughter, Caroline, who is very active in BarTY, Barnert's youth group, and is currently serving as VP, Recruitment for NFTY's Garden Empire Region (URJ's Youth Movement).
Contact: rmbarnert@gmail.com
---
MARINA VORONINA | Cantorial Soloist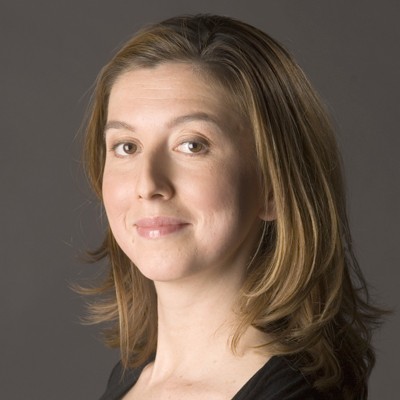 Marina is a trained opera singer with a Masters degree in Music Education and Vocal Performance from The Eastman School of Music. She has years of experience teaching music, choir and voice lessons to young children — most recently at The Village School in Waldwick.
Marina lives in Glen Rock, with her husband, David, and three young children.
Contact: marinakras7@gmail.com
---
Janet MontROy | Music Director
Janet Montroy wears many hats at Barnert Temple, including Pianist, Adult Choir Director, Worship Band Leader, Brass Ensemble Coach, and Purim Shpiel Lyricist. She has been at Barnert for over 20 years, and is also the Director of Music at the Community Church in Glen Rock. She is a graduate of Oberlin Conservatory and has a Masters degree from the Manhattan School of Music. Janet and her husband Gary live in Mahwah and are the parents of three adult children.
Contact: janetmontroy@gmail.com
---
Billy Bloomberg | BarTY Advisor
Billy Bloomberg is originally from Lawrenceville, NJ, and grew up attending Congregation Beth Chaim in Princeton Junction. After finishing his degree in Culinary Arts, he transferred to William Paterson University, where he is studying Sociology and minoring in Religious Studies. At William Paterson, Billy is a member of the Epsilon Epsilon chapter of Phi Kappa Tau and serves as Hillel's Vice President. Billy has had the privilege of being a staff member for Urban Mitzvah Corps in New Brunswick with four of our own BarTY Teens.
Jewish youth programming has been a large portion of Billy's life, shaping what he studies and bringing him lifelong friendships. Starting in 4th grade, Billie was involved in youth programming, continuing through high school, where he served on his youth group board. In Billy's freshman year of high school, he started attending NFTY events and eventually spent a summer at Urban Mitzvah Corps.
Billy works with NFTY-GER locally and with NFTY and the URJ on the North American level. He finds working with such amazing teens inspiring and is working with passionate Barnert teens to build BarTY into an even more vibrant community!
Contact: barty@barnerttemple.org
---
PRESCHOOL & JEWISH JOURNEY PROJECT (JJP) LEADERSHIP
NAN SUMNER
Assistant Director, Preschool
(201) 848-1027
JENNIFER KATZ GOLDSTEIN
Assistant Director, Jewish Journey Project Barnert Temple
(201) 848-1027
NATALIE COHEN
Office Administrator
(201) 848-1800, ext. 400
LORI SOLOMON
Rabbi's Executive Assistant
(201) 848-1800, ext. 401
LYNN SABAT
Bookkeeper
(201) 848-1800, ext. 407
Tue, June 18 2019
15 Sivan 5779
Today's Calendar
---
Friday Night
Shabbat Day
Upcoming Programs & Events
---
Parashat B'haalot'cha
Candle Lighting
Fast of Tammuz
View Calendar
Tue, June 18 2019 15 Sivan 5779