Chamber Music Concert & Reception
Sunday, March 26, 2023
•
4 Nisan 5783
3:00 PM - 5:00 PM
Social Hall
- SCROLL DOWN TO REGISTER -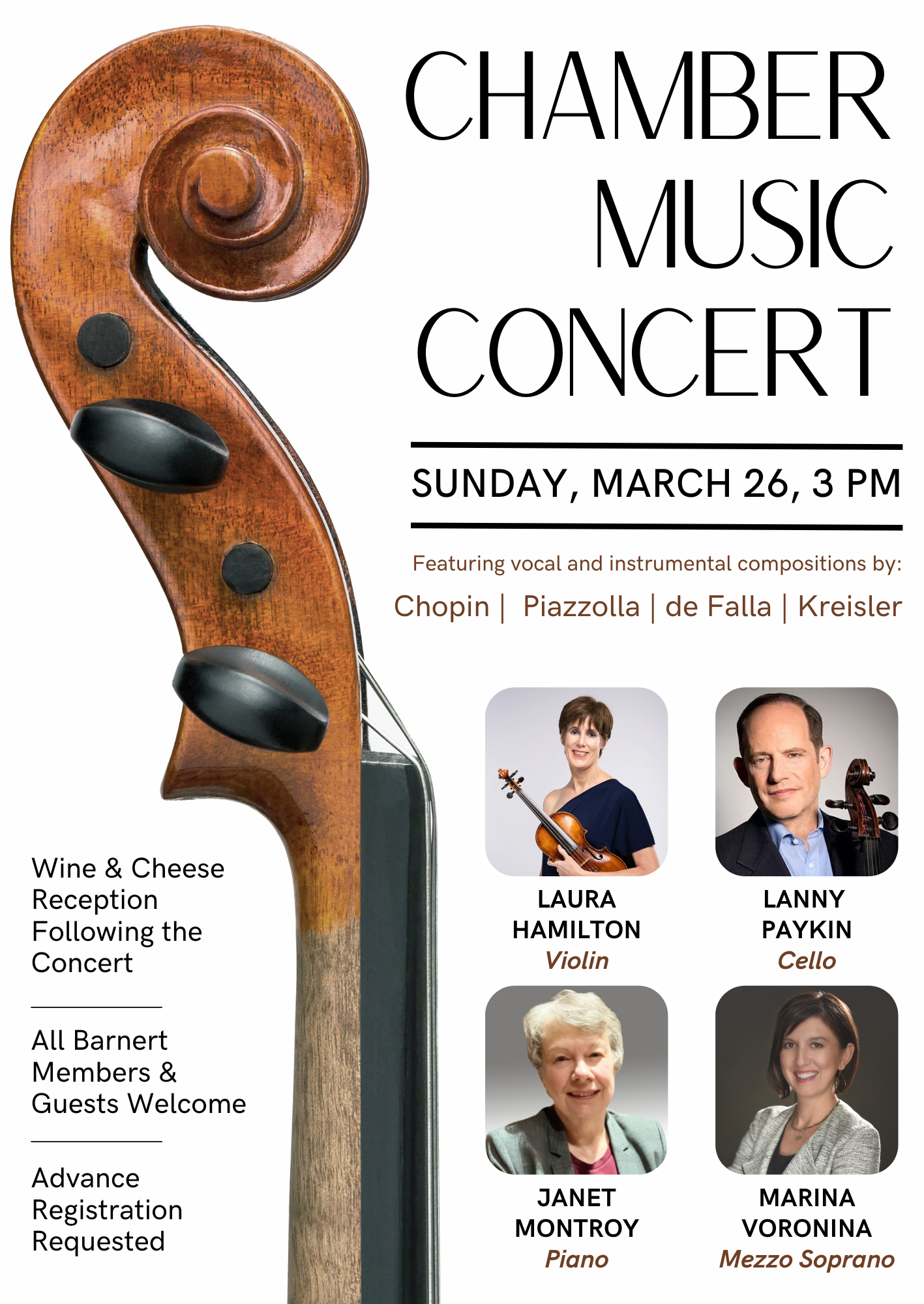 LAURA HAMILTON | Violin
Laura Hamilton was Principal Associate Concertmaster for the Metropolitan Opera Orchestra, where she led hundreds of performances over 33 years. She was concertmaster for many of the MET's popular "Live in HD" videocasts. Previously a member of the Chicago Symphony, she appeared with that orchestra as concerto soloist with Maestro Sir Georg Solti. She is currently the Artistic Director and Concertmaster for the summer festival Classical Tahoe in Nevada, and Concertmaster for CityMusic Cleveland. She teaches violin and chamber music at New York University.

In 2014, while on leave from the MET, Laura served for one season as concertmaster at the Sydney Opera House. A highlight of her Sydney experience was a gala concert with famed tenor Jonas Kaufmann; her rendition of "Massenet's Meditation from Thais" garnered rave reviews praising her "radiant, serenely beautiful interpretation."

Laura Hamilton and Lanny Paykin have been members of Barnert Temple since 1993.
LANNY PAYKIN | Cello
Lanny performs with a number of New York orchestras, on Broadway, in recording studios, and in solo and chamber music concerts. A graduate of The Juilliard School and Wesleyan University, Mr. Paykin plays with the American Composers Orchestra, Brooklyn Philharmonic, and the Westchester Philharmonic. He has performed with the New York Philharmonic, the Metropolitan Opera Orchestra, and the New York City Ballet and Opera Orchestras. In 2014, Mr. Paykin served as Acting Assistant Principal Cello with the Adelaide Symphony Orchestra in Australia.
JANET MONTROY | Piano
Janet Montroy has been the Musical Director at Barnert Temple for over 25 years. She is also the director of Music at the Community Church in Glen Rock. She is a graduate of Oberlin Conservatory and has a master's degree from the Manhattan School of Music.

Janet wears many hats at Barnert Temple, including Pianist, Adult Choir Director, Worship Band Leader, Brass Ensemble Coach, and Purim Shpiel Lyricist.
MARINA VORONINA | Mezzo Soprano
Marina Voronina, Mezzo-Soprano, received her masters degree in Vocal Performance and Music Education from the Eastman School of Music in Rochester, NY. Marina is equally at home performing opera, oratorio as well as art song and musical theater. Some of her most memorable experiences have been performing with the Tanglewood Festival Chorus, Brevard Music Center, Eastman Opera Theater and numerous concerts of Russian music at various cultural events in Boston, Rochester and Long Island.

Presently, Marina divides her time between leading the Barnert community in song as our cantorial soloist, working with the Junior Choir (Barnert Tempos), and teaching music at The Village School, a private school in Waldwick.
Share Print Save To My Calendar
Tue, December 5 2023
22 Kislev 5784
Today's Calendar
---
Upcoming Programs & Events
JJP
Wednesday, Dec 6 4:00pm
---
This week's Torah portion is

Parashat Vayeishev
Candle Lighting
Erev Hanukkah
View Calendar
Tue, December 5 2023 22 Kislev 5784