Amazon Smile
AmazonSmile is a program that donates a percentage of your Amazon purchases to Barnert Temple. So many of us shop online with Amazon. This is one of the easiest ways to generate additional money for Barnert by simply doing what you normally do! You will still be able to use your Prime membership or any other Amazon perks/programs you have linked to your Amazon account.
It's very simple. However, the steps differ if you are using a computer, iPhone or Google Play device. Below are the detailed instructions.
Questions? Contact Rebecca Rund.
---
On Your Computer:
1. Go to smile.amazon.com.
2. Follow the website prompts to create your AmazonSmile account.
(Note: If you already have an Amazon account, enter your login credentials when prompted for your username and password.)
3. You will be asked to select a charitable organization to support. Enter Barnert Temple in the field beneath Or pick your own charitable organization and click Search. Then select Barnert Temple as your charity.
4. Follow the online prompts to complete your setup.
5. Each time you want to shop with Amazon, be sure to go to smile.amazon.com. This will ensure that a percentage of your purchases go to Barnert Temple! (Worried you will forget? Create a bookmark!)
On Your iOS Devices:
You can't use the AmazonSmile program with the existing Amazon app. However, there is an easy workaround that makes it possible. Once it's set up, you'll never know anything has changed!
1. Delete the existing Amazon app on your phone.
2. Launch Safari, and go to smile.amazon.com.
3. Follow the instructions (steps 2-4) above to set up your account, and select Barnert Temple as your charity.
4. Once you have completed the setup, click on the Share
icon.
5. Scroll down (or left, depending on your iOS version) and click Add to Home Screen. You will now have an AmazonSmile icon on your home screen which you can use in exactly the same way you used the Amazon app!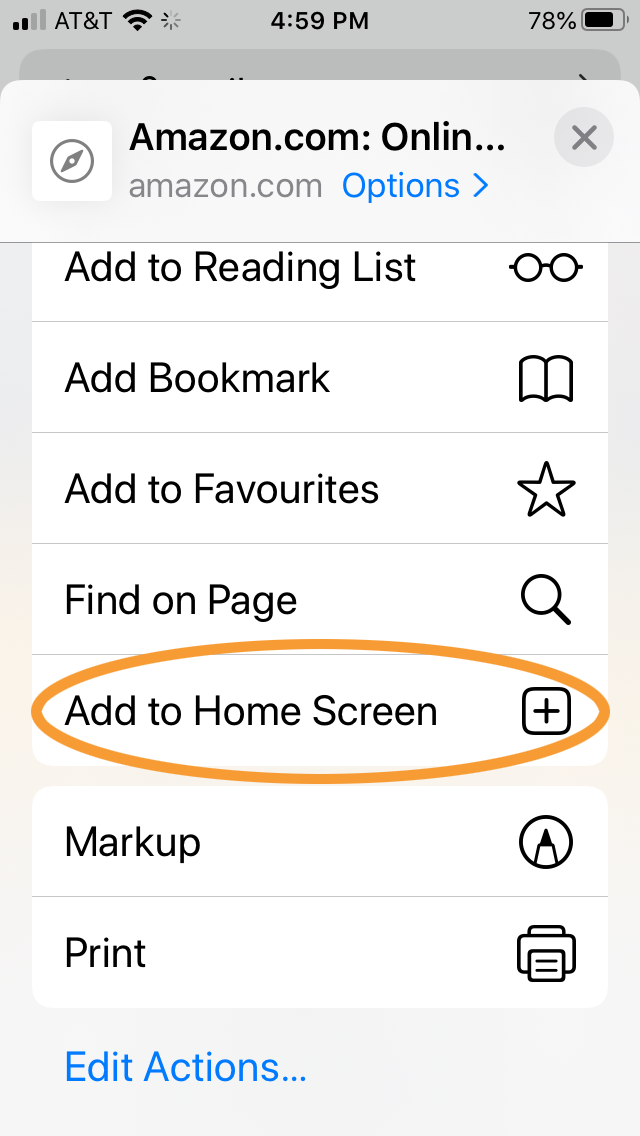 6. The next time you want to shop on Amazon.com from your phone, click this icon. It will look just like the Amazon app you were previously using! Simple!
On Google Play Devices:
Make sure you have the most recent version of the Amazon app. Also, sign up for AmazonSmile on your computer BEFORE following the instructions below.
1. Open the Amazon app.
2. Click on the (☰) menu icon.
3. Tap Settings.
4. Tap AmazonSmile.
5. Follow the prompts to turn on AmazonSmile.
Thu, December 3 2020 17 Kislev 5781